Ledige stillinger
Her finder du de stillinger, vi annoncerer med netop nu.
Business Development Manager
for growth & New Business in Copenhagen
For our client, Budbee, Bloom Recruitment is looking for an energetic Business Development Manager to start up their new sales office in Denmark. The role is based in Copenhagen reporting directly to HQ in Stockholm. You will be responsible for growing the business in Denmark, and make sure Budbee becomes a true success, as they are already in other Nordic Countries. Budbee has been LIVE in Copenhagen since February 2019, so there are millions of opportunities to go BIG.
Since Budbee is growing incredibly fast with new markets or products being added pretty much every month, they are not looking for the average Joe. The right person must be someone who loves change and challenges and has an inner drive to get things done. 
As a Business Development Manager you will identify and maximise new business opportunities within the Danish market. Budbee is looking for a born sales wizard that can change the home-delivery experience for Denmark, forever!
To be successful in this role, Budbee is looking for someone who has a true passion for sales and has a result oriented mind-set. It's important to be a brave relationship builder and a true talent in signing new businesses.
Further, as Budbee is a start-up business and growing in the same speed as the light travels, they are looking for a highly adaptable candidate who is able to switch between long-term strategic initiatives one moment and pivot into rapid, tactical actions the next.
In other words, Budbee would like you to:
Possess exceptional communication skills in Danish and English, both written and verbal (other Nordic languages a big bonus)
Preferably have a University Degree or proven success at B2B sales management - app. 2-3 years
Have experience from the e-commerce business
Have some experience from SaaS businesses
Be a "door opener", somehow you always find a way to connect with people
Be a strategic thinker, able to grasp business metrics in the context of overall company goals
Be able to quickly build relationships with external partners, couriers and internal stakeholders
Have a creative mindset that enjoys experimentation and is willing to take bold bets despite risk of failure
Have a drivers license...
In return you will get:
By joining Budbee on their journey, you will become part of the young and hip Budbee family, with great sparring, fun colleagues, social gatherings, great development possibilities in a fast growing yet stable company...You will have a strong brand that will have your back.
Furthermore, Budbee offers a good bonus scheme, pension scheme, wellness grant and more...
About Budbee
Budbee is a technology company that operates a modern last-mile logistics service specialized for e-commerce businesses, they call it Logtech. Budbee has been breaking new grounds since 2016 by introducing the next generation home deliveries. Today they offer their services to about 6 million people in Stockholm, Gothenburg, Malmö, Helsinki, and Copenhagen. In September 2019 Budbee will also be opening up in the Netherlands.
Everyone has heard about tech or even fintech or medtech... join Budbee now and become part of the latest and greatest, Logtech!
Feel excited about this role? Then we'd love to talk to you - In Bloom we are continuously evaluating incoming applications, and look forward to receiving your CV asap. To apply for the job, pls. press the button "apply for position"
Ansøg job
Virksomhed
Budbee, København
Vil du vide mere?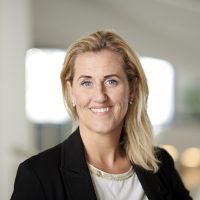 Kristine Heuser
+45 3168 6141
kh@bloom.dk