Ledige stillinger
Her finder du de stillinger, vi annoncerer med netop nu.
Software Test Automation Engineer
Are you passionate about software test automation and do you want to be part of a fast-growing and successful company with skyhigh ambition?
At our client Luxion in Aarhus, we offer an exciting job opening as Software Test Automation Engineer in their QA team. You will be part of a friendly working environment with innovative and talented colleagues of many nationalities in a flat, agile structure where your personal contribution really matters.
Luxion is the global leader of product design rendering software. Thousands of companies around the globe use Luxion's main product, KeyShot, for a multitude of use cases. This includes creating photo-real visualizations of CAD data for marketing, evaluating materials and textures ahead of production, and providing interactive product visualizations and 3D animations for stakeholders across the design lifecycle. In short, they help companies make better decisions, faster.
Founded in 2003, Luxion has offices in Denmark and the US, and has a global footprint with a large portfolio of customers including Google, Microsoft, Logitech, Procter & Gamble.
 
The role
Luxion is looking for a talented Software Test Automation Engineer to join their small team of QA testers in Aarhus, who are eager to welcome you to the family.
As part of the QA Team, you will work in an agile environment of development teams, QA, UX and Support. Along with your team members, your main responsibility will be to drive test automation even further to allow Luxion to scale and ensure high quality as they grow. You will have direct contact with and tight integration into the individual development teams. All teams are no further than a few steps away, and the direct contact and interaction is vital and very valued at Luxion. Thus, you will have great influence on the daily processes and workflow and  be surrounded and supported by great colleagues, who are more than happy to help.
You will be working closely together with the Scrum teams in bi-weekly sprints to:
Develop and maintain automated UI and regression tests

Convert manual test cases into automated regression tests

Review test coverage of new features and suggest improvements

Drive test automation further through test strategy, processes, and applied tools

Participate in continuously improving our tools, processes, and knowledge sharing
Your profile
At Luxion they expect you to be as passionate about test automation as they are and want you to strive to always to deliver quality to the highest standard. You are a curious and quick learner, and you enjoy converting complex business problems into simple, clean, automated test scenarios.
Preferably you have:
Software engineering background with programming and scripting experience

3+ years of professional experience in software testing

Hands-on experience with functional-, integration-, regression-, UX/UI- and exploratory testing

Experience with test automation tools for desktop applications or web (e.g., Squish, Test Complete, Selenium frameworks etc.)

Experience with test management tools (e.g., XRay, TestRail, etc.)

Experience with testing desktop applications on Windows and Mac
Luxion offers
A company of ambitious and highly skilled people where everyone has a voice and makes a difference. Their culture is built on trust, openness and team spirit and they value personality, creativity, and professional development. 
Luxion is in the middle of an exciting journey driven by the success of their products, and everyone is learning and developing together as they grow.

Luxion values people. Thus, good communication, knowledge sharing, and collaboration is key. Therefore, they prefer that you work at the office on most days. The software development department is located at Rymarken 2 in Aarhus V.
The company offers attractive benefits such as health insurance, pension programme, lunch scheme and many social events.
See more about Luxion here www.luxion.com
 
Interested?
Please submit your application and a CV in English by using the 'Apply Job' botton above. At Bloom we evaluate applications daily. For further information about the position, please do not hesitate to contact Dorte Pape at Bloom via dp@bloom.dk.
Ansøg job
Vil du vide mere?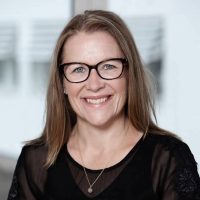 Dorte Pape
+45 3160 9365
dp@bloom.dk