Ledige stillinger
Her finder du de stillinger, vi annoncerer med netop nu.
Sales Pipeline Coordinator
Would you like to join a dedicated sales team in a world leading software development company and contribute to improving sales pipeline management?
Cryptomathic is a Denmark-based, leading provider of cryptography-based security solutions for institutions and organizations with the highest cybersecurity needs.
As the company is growing, there is an increased focus on strengthening the sales pipeline management. Therefore, we are looking for an enthusiastic Sales Pipeline Coordinator who can take the lead in structuring and optimizing the use of lead data from early prospecting such as outbound campaigns or visitors to the website through to won contracts and on to upsell and cross sell.
Today the company uses a mix of HubSpot, which is integrated with the company's website lead generation and email system, and different excel sheets to manage its sales pipeline. The intention is to strengthen the setup and use of HubSpot as the primary tool to be used across the sales organization.
About the Role
The Sales Pipeline Coordinator will be accountable for the setup and management of HubSpot as a platform focused initially on sales pipeline management and integration with digital marketing activities. Once the basics are working well, the use of HubSpot will be broadened to that of a full CRM system.
Your main responsibilities will be to:
Set up and run HubSpot to provide information about the pipeline including, for example:

The impact of digital marketing efforts to fill the pipeline
The value of the pipeline by stage
Conversion rates and lead times from stage to stage
An initial data cleanse to establish a firm baseline

Liaise with the sales executives in Europe and America to gather the information required with a regular frequency, taking ownership for data quality
Train newly hired sales executives in the use of HubSpot so that they directly populate the tool themselves with more limited support
Support marketing activities, particularly digital marketing, to drive sales working with executives across the group.
The position is new in Cryptomathic giving you an excellent opportunity to make a real change. Your work location will be in Aarhus, but you will work closely with the sales management teams in Europe and America.
This role reports directly to the CFO (Chief Financial Officer) of the company.
Skills we value for this position
We expect you to have documented knowledge and experience with sales pipeline management and HubSpot or other CRM tools.
You are structured with strong analytical skills enabling you to make sense of information and to identify any information gaps that need to be filled.
You are in possession of good interpersonal skills and can influence people and get their support.
Your communication skills are excellent in both English and Danish.
About Cryptomathic
Cryptomathic is a Denmark-based, leading provider of cryptography-based security solutions for institutions and organizations with the highest cybersecurity needs.
The Company's product portfolio comprises four key solutions lines of business: cryptographic key management, e-signature & authentication, EMV1 and mobile app security. Within these respective products Cryptomathic is uniquely positioned, being one of only a few international vendors that have a solid track-record in cryptography building on its founders globally recognized expertise. The company's products are sold directly to long-standing customers primarily in the financial industry with banks and other financial services companies representing the largest categories.
The Company is headquartered in Aarhus, Denmark, with additional offices in Munich, London, Cambridge, and San Jose. In 2021 The Riverside Company invested in the business alongside the existing shareholders and are now working closely with management to build on the company's strengths and add to them to accelerate growth.
For more info check www.cryptomathic.com
Interested?
Please submit your application and a CV by using the 'Apply Job' button above. At Bloom we evaluate applications daily. For further information about the position, please do not hesitate to contact Dorte Pape at Bloom via dp@bloom.dk
Ansøg job
Vil du vide mere?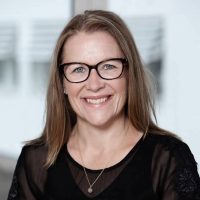 Dorte Pape
+45 3160 9365
dp@bloom.dk