Ledige stillinger
Her finder du de stillinger, vi annoncerer med netop nu.
Senior Backend Engineer with Node.js experience
Do you love JavaScript and have a solid experience in Node.js? SumUp is expanding their team in Copenhagen with talented Backend Engineers.
Our client, SumUp, is a fast-growing fintech company of 2000+ employees from more than 60 countries, with offices in some of the biggest cities across the globe. The products are used by small merchants to process contactless payments.
In this job you will have the opportunity to focus on new products with worldwide reach to millions of customers in over 33 countries worldwide. The office in Copenhagen has around 50 employees and you will be working in a minor team with four other team members. You'll be a part of the Invoices and Accounting team under the Merchant Growth Tribe, whose mission is to build simple and powerful products.
What you'll do
As a Senior Backend Engineer your primary job is to develop, monitor and maintain microservices. You will create design artifacts, maintain the central database, and ensure high performance and responsiveness to requests from the front-end and other services.
Besides this, you will:
Contribute to the overall software development life cycle including requirements gathering, analysis, design, development, release/version control, testing, deployment and support
Write reusable, testable, and efficient code
Perform system analysis, code modifications, and functional testing to troubleshoot production issues
Write integration and unit tests with good code coverage
Develop, build, and release to production several times in a day
You'll be great for this role if you have
Min. 5 years' experience with design and development of backend software components
Substantial experience with JavaScript
A few years' experience with Node.js and any NoSQL database
Expertise in Microservices development
Experience with message brokers such as RabbitMQ
Solid understanding of software architecture and design of distributed applications
Embrace DevOps culture
Good English communication skills, both spoken and written
It's an advantage if you have experience with AWS, Kafka, ELK, MongoDB and any CI/CD tool such as CircleCI or Jenkins. Experience in the financial technology industry is also a benefit.
Why join SumUp
You will be part of an international and social community with an informal tone
You will work with a state-of-the-art software development with a passionate and talented group of people working on a mission together
You will be a part of a highly autonomous team with plenty of opportunities for you to drive innovation, develop your career, and leave your mark
You will have the freedom to work from home
SumUp offer numerous other benefits e.g. corporate pension scheme, health insurance, relocation assistance, subsidized office lunches, and a gorgeous office in central Copenhagen near The Lakes.
​
How to apply
​Please do not hesitate to send your CV as soon as possible, as we at Bloom evaluate applications from day to day. If you need more information, please contact Recruitment Consultant, Freya Sofie Ø. Olesen on fso@bloom.dk or phone +45 53 86 13 00.  
About SumUp
They believe in the everyday hero. 
Small business owners are at the heart of all they do, so they're creating powerful, easy-to-use financial solutions to help them run their businesses. With a founder's mentality and a 'team-first' attitude, their diverse teams across Europe, South America and the United States work together to ensure that small business owners can be successful doing what they love. 
SumUp is an Equal Employment Opportunity employer that proudly pursues and hires a diverse workforce. SumUp does not make hiring or employment decisions on the basis of race, color, religion or religious belief, ethnic or national origin, nationality, sex, gender, gender identity, sexual orientation, disability, age or any other basis protected by applicable laws or prohibited by Company policy. SumUp also strives for a healthy and safe workplace and strictly prohibits harassment of any kind.
Ansøg job
Vil du vide mere?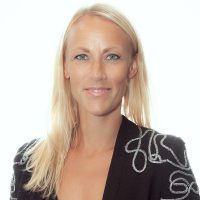 Freya Sofie Østergaard Olesen
+45 5386 1300
fso@bloom.dk