Ledige stillinger
Her finder du de stillinger, vi annoncerer med netop nu.
Experienced Ruby backend Engineer
at a strong and growing Company
An ideal opportunity for you who are motivated by developing applications and thrive in an environment advocating innovation, communication and collaboration.

Karnov Group offers a key role in developing and building their content products effectively and with confidence. 

As their new backend developer, you will join the Development division, consisting of four dedicated agile development teams. Their applications are mainly written utilising Ruby in the backend with a React frontend, most are hosted using Docker on the Google Cloud platform. Projects are undertaken by small agile teams in collaboration with the Authors and Products Division, securing that Karnovs´ customers have relevant and updated content at hand 24/7. There's a healthy mix of new greenfield work, as well as improvement of the legacy applications.
The role
You will be joining the Content Development team responsible for developing and maintaining the backend systems and processes such as cms systems, editorial production line systems, content harvesting, processing and enrichment systems, collaborating with your peers, performing code reviews and pair programming, which is super fun!
Your skills
Writing high quality code with good test coverage. Implementation across portfolio as well as being a team player with an agile mind-set defines you in your daily work. You are passionate about software development, content structure and metadata and strive for the best way forward to optimize and refine processes and methodologies.
Karnov expects you to be proficient in Ruby and that you write tidy and solid code. They ensure code readability among projects through automatic code linting. Testing is built into the work you do. Pair coding is something Karnov encourages.
You write solid Ruby code and have experience with react. Experience and knowledge of JavaScript, xslt, xml is considered as a merit. Experience of working with content aimed for professional use is considered as a merit.
This is what you bring
To be successful in this role, you will bring an engineer's approach to problem- and solution solving methodologies. Experience in processing media neutral content for professionals to be published through various end points is perceived as an advantage. It is a prerequisite that you are a solid practitioner of Test-Driven-Development, as well as you are a proficient and thoughtful programmer with excellent skills. Lastly, great skills within communication and collaboration is an advantage as Karnov Group advocates such culture.
A great job with really great opportunities
Karnov Group takes pride in a friendly, inclusive and supportive environment,  where they inspire one another to be as good as possible. They consider themselves to be open and direct. Knowledge sharing and discussion is highly valued and encouraged. Karnov Group values diversity; currently there are more than 14 nationalities in the team, and they would be happy to have even more countries represented.
 
Karnov offers a position in an ambitious company with great opportunities for professional and personal development with an attractive salary package, great flexibility and also opportunities for further education and courses and much more...

You will have very high skilled colleagues working in a dynamic environment. They believe in close collaboration across the entire business to serve their customers every day. They take pride in acting as role models to always walk the talk and getting things done.

The position can be located in either Stockholm or Copenhagen.
This is how you proceed
If you want to know more about the role or Karnov you are welcome to contact Senior Consultant, Kristine Heuser at Bloom.  We handle the recruitment process for Karnov.

We aim to fill the position as soon as possible and will evaluate applications as they arrive. We are looking forward to receiving your CV and cover letter via bloom.dk
Ansøg job
Virksomhed
Karnov Group - Copenhagen OR Stockholm
Vil du vide mere?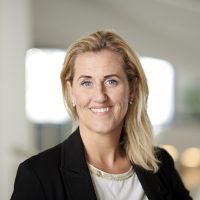 Kristine Heuser
+45 3168 6141
kh@bloom.dk