Ledige stillinger
Her finder du de stillinger, vi annoncerer med netop nu.
Technical Writer
You are passionate about creating user documentation and you have the technical skill to clearly communicate complex connections for users around the globe across different channels.
For our client Concordium, we are looking for a Technical Writer to lift their documentation to the next level. 
Concordium is a software company developing blockchain-based solutions for enterprises. Concordium is deeply rooted in science and the Tech team works closely with COBRA at Aarhus University and ETH Zurich. It is the first blockchain with identification built into the protocol to meet regulatory requirements while delivering a user-friendly platform that can handle smart contracts.
The Tech team in Aarhus implements the next-generation blockchain technology (including networking, implementation of a smart contract language, and cryptographic primitives and protocols) as well as related tooling such as crypto wallets and various dashboards. These systems are often complex and very technical.
Your role and responsibilities
As technical writer you will work closely with developers and scientists in their Tech group, and you will be involved with other parts of their organisation to align on the documentation across Concordium.
Your primary responsibilities are: 
Ensuring documentation is structured and easily accessible

Maintaining existing documentation and writing new documentation

Supporting developers in contributing to the documentation

Working with developers to ensure that all areas are documented

Assist in testing of the documentation

Aligning documentation across Concordium
As part of this job, you will also be involved in defining the role and processes around documentation.
About you
We expect that you have an education and practical experience matching the above skills and responsibilities.
Experience in writing technical documentation for non-technical users

Able to structure large amounts of information for "getting-started" guides as well as in-depth documents

Good communication skills

Excellent English writing skills

Good understanding of the technical challenges in using and working with software

Eager to try out the software being documented

Knowledge of blockchain is a plus but it is not a prerequisite.
Concordium offers 
An exceptional and challenging opportunity to work with blockchain and work with state of the art technologies. You will work in an international organisation with very skilled colleagues.
About Concordium 
Concordium is a science-based proof-of-stake blockchain created with business applications in mind. It is the first blockchain with identification built into the protocol to meet regulatory requirements, while delivering a user-friendly platform that can handle smart contracts. Concordium is developed by professionals with global multi-sector experience and in collaboration with the Concordium Blockchain Research Center Aarhus (COBRA) at Aarhus University and Swiss Federal Institute of Technology (ETH). The network will eventually be fully decentralized, the code open source, and further development orchestrated through an advanced governance mechanism.
Blockchain technology 
Blockchain technology is one of the most important innovations in recent times. The technology will rationalize financial systems and support user-owned platforms, provenance, and rights registration. However, the technology needs to mature in respect to safety, accountability, and usability before mainstream business will start building true infrastructure on blockchains. Concordium will provide this mature blockchain technology to the world.
Interested? 
We in Bloom are continuously evaluating incoming applications and look forward to receiving your application and CV.
If you have questions, please do not hesitate to contact Manager Dorte Pape at Bloom via dp@bloom.dk or mobile +45 31609365. 
Ansøg job
Vil du vide mere?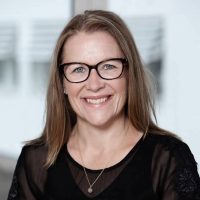 Dorte Pape
+45 3160 9365
dp@bloom.dk