Ledige stillinger
Her finder du de stillinger, vi annoncerer med netop nu.
IT Administrator
for blockchain company Concordium in rapid growth
For our client Concordium, we are looking for an IT Administrator to fill this new position in their highly qualified Tech team in Aarhus, Denmark.
Concordium is a software company developing blockchain-based solutions for enterprises. Concordium is deeply rooted in science and the Tech team works closely with COBRA at Aarhus University and ETH Zurich. It is the first blockchain with identification built into the protocol to meet regulatory requirements while delivering a user-friendly platform that can handle smart contracts.
The Tech team in Aarhus implements the next-generation blockchain technology (including networking, implementation of a smart contract language, and cryptographic primitives and protocols) as well as related tooling such as crypto wallets and various dashboards. These systems are often complex and very technical.
Concordium is running a number of servers in the decentralized network of nodes that are responsible for executing transactions and adding blocks to the chain.
Your role and responsibilities
As IT administrator, you will get the responsibility for the IT used by all employees and the servers running their nodes. A central part of this is to develop and maintain the IT security policies and to handle subcontractors including cloud service providers.
In this role you will assist all employees as needed and work closely with the management team to develop the IT strategy, and with their DevOps team in relation to their blockchain nodes.
Your primary responsibilities are
Assist in defining the overall IT-strategy and security policies
Implement the IT systems to meet the IT-security policy
Primary point of contact for security audits
Ensure that the internal IT systems are working. This includes

support to all employees (limited in practice)
maintain network
manage licenses
purchase of software and hardware

Contact to the cloud service providers
Manage the IT-subcontractors
About you
You have experience with IT administration, security policies and use of cloud services. You have a relevant education within IT - Bachelor level or higher. 
You are proactive, responsible, and thorough in your tasks. You have good cooperation and communication skills.
Furthermore, you speak English and/or Danish. 
Concordium offers
An exceptional and challenging opportunity to work with blockchain and work with state of the art technologies. You will work in an international organisation with very skilled colleagues.
 
About Concordium
Concordium is a science-based proof-of-stake blockchain created with business applications in mind. It is the first blockchain with identification built into the protocol to meet regulatory requirements, while delivering a user-friendly platform that can handle smart contracts. Concordium is developed by professionals with global multi-sector experience and in collaboration with the Concordium Blockchain Research Center Aarhus (COBRA) at Aarhus University and Swiss Federal Institute of Technology (ETH). The network will eventually be fully decentralized, the code open source, and further development orchestrated through an advanced governance mechanism.
Blockchain technology
Blockchain technology is one of the most important innovations in recent times. The technology will rationalize financial systems and support user-owned platforms, provenance, and rights registration. However, the technology needs to mature in respect to safety, accountability, and usability before mainstream business will start building true infrastructure on blockchains. Concordium will provide this mature blockchain technology to the world.
 
Interested?
We in Bloom are continuously evaluating incoming applications and look forward to receiving your application and CV.
If you have questions, please do not hesitate to contact Manager Dorte Pape at Bloom via dp@bloom.dk or mobile +45 31609365.
Ansøg job
Vil du vide mere?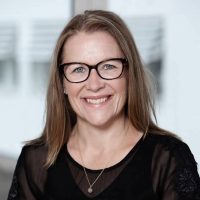 Dorte Pape
+45 3160 9365
dp@bloom.dk