Ledige stillinger
Her finder du de stillinger, vi annoncerer med netop nu.
.Net/C# Backend Developer
with initiative and excellent problem-solving skills.
For our client DHL Aviation we are looking for an experienced .Net/C# Backend Developer.
You will become part of the whole process from design to testing. Your primary role as Backend Developer will be cooperation with the management, maintenance, and performance of excellent coding to create the final product.
You will be working with maintenance and new projects where you will make your DHL colleagues' digital engine work easier, simpler and more flexible. At the same time, you will have great opportunities to influence your work, come up with new ideas and solutions, and work at flexible hours.
The company:
DHL is the leading global brand in the logistics industry. The DHL family of divisions offer an unrivalled portfolio of logistics services ranging from national and international parcel delivery, e-commerce shipping and fulfillment solutions, international express, road, air and ocean transport to industrial supply chain management. With about 340,000 employees in more than 220 countries and territories worldwide. DHL is part of Deutsche Post DHL Group. The Group generated revenues of more than 59 billion euros in 2015.
Your responsibilities:
Plan and collaborate with stakeholders and team members

Create product specifications and documentation enforcing technical standards

Perform application integration, maintenance, upgrades, and migration

Write and implement scripts and code for applications

Test the products to ensure it is completely functional and meets the requirements

Run diagnostic tests and perform debugging procedures

Present regular progress reports and meet agreed goals

3rd level support and training
Your skills:
​You probably have a background as B.Sc. or M.Sc. in Computer Science or equivalent. Your CV and professional credentials are equally as important. You are logical and analytical and have good collaboration skills. 
We expect you to have min. 4 years of experience, be sharp in .Net/C# and besides that have an understanding with JS/TypeScript, HTML, CSS, Winforms, WPF, JQuery.
The main languages are .Net, C# and Powershell

Main database is MSSQL.

The communication/messaging is: MQ, JSON, XML
As a person, you are proactive, flexible, resourceful, curious, and above all, passionate for the work you're doing. We expect for you to work independently, but also have great collaborating skills, since you will be working in a small team. It´s important that you speak and write fluently in English.
DHL offers:
A fulltime position in an international company with great sparring opportunities worldwide. On top of that DHL won the price as Denmark's Best Workplace in 2018.
DHL has a high level of commitment and a strong culture. The environment is dynamic, inspiring and educational. Both on a professional and social level, and there is an informal and humorous tone. DHL manages to create results through their employees' drive. DHL offers a good pension scheme, health insurance, 4% bonus in November, lunch plan and flexibility in working hours. 
DHL is located in Amager close to the airport. From the office you have a beautiful view over Øresund and will be relocated to new modern facilities in the near future.
You will be reporting to Application and Project Manager, Mattias Hanning.
​How to apply:  
​Please do not hesitate to send your CV as soon as possible, as we at Bloom evaluate applications from day to day.  
If you need more information, please contact Recruitment Consultant Freya Sofie Ø. Olesen at Bloom via fso@bloom.dk or phone +45 5386 1300.  
Ansøg job
Vil du vide mere?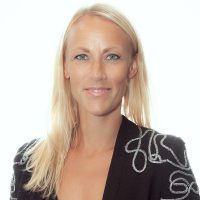 Freya Sofie Østergaard Olesen
+45 5386 1300
fso@bloom.dk