Ledige stillinger
Her finder du de stillinger, vi annoncerer med netop nu.
Senior Web Developer with PHP experience
for successful international company who develops and sells the amazing software, KeyShot
Are you a skilled web developer with a special talent in back-end technologies who can help develop a business-critical web portal and infrastructure supporting successful products and services?
Do you want to join a skilled and self-empowered Scrum team that, apart from developers, also includes QA and UX designers? 
Come and join our customer Luxion if you are passionate about web development and want to further develop yourself in an innovative company with a personal touch, a flat organizational structure and with a lot of exciting challenges as they grow.
Luxion develops and sells KeyShot, the fastest and easiest photo-realistic rendering software on the market. With KeyShot, Luxion has revolutionized the otherwise complex process from 3D CAD models to realistic product visuals and animations. Users tell, that KeyShot is almost addictive and easy to use - a pure pleasure to work with.
Customers include many Fortune 100 companies such as Google, Chrysler, Fossil, Rolex, Louis Vuitton, Victoria's Secret, HP, Microsoft, Philips, Under Armour, Adidas and many more.
As web developer at Luxion you will contribute to developing the critical infrastructure and services supporting their 3D rendering software products. This includes developing new functionality and improving a cloud-hosted digital material library and licensing administration system. You will primarily be working with PHP using Symfoni and Sylius on top of MySQL and deployed to AWS. Luxion also want to further improve the user experience for their cloud account users, which requires strong skills in authentication and authorization technologies and methods like OAuth2. Finally, you may also help them gain valuable knowledge from monitoring and logging by automating the collection and analytics of such data using the ELK Stack.
You will be part of a cross-functional and self-empowered Scrum team and participate in bi-weekly sprint planning as well as long-term planning. As part of a close-knit team, you have great influence and are supported by team members who are happy to help and provide feedback.
Luxion value communication, knowledge sharing and collaboration and prefer that you are able to work at the office most days. The software development department is located in their cozy Danish office at Rymarken 2 in Aarhus.
Your qualifications
We expect that you have an educational background as a Computer Scientist, IT Engineer or equivalent. You have +5 years of experience in web development.
Furthermore, we expect you to have:
Proven software development experience in PHP (MVC design patterns) 

Good knowledge of relational databases and administration (MySQL)
Understanding of front-end web technologies like HTML5, CSS3, and JavaScript is definitely a plus.
It is of great advantage if you also have experience with authentication and authorization like OAuth2. Also, a general knowledge of Linux, nginx, shell scripting, Amazon Web Services and Docker Ability to manage a hosting environment and scaling applications to handle load Experience with version control, such as Git, is of importance.
You have experience with agile methods such as Scrum.
The primary working language is English, and since your future colleagues in Luxion come from all over the world, it is vital that you speak and write English fluently.
As a person you are
a team player who works independently and also enjoys collaboration and are willing to discuss with team members how to improve the software craftsmanship in the team. No challenge is too big, and none too small. You have a proactive quality-minded attitude and the ability to work systematic and confident with new challenges. You are also able to coordinate directly with other teams or our support and sales in the US office.
Luxions offers you 
You will meet a department of fantastic and very skilled people where everyone has a voice and makes a difference. And so will you. Luxion has a culture of trust, openness and collaboration and care about creativity, personality and professional development. They are in the middle of an exciting journey driven by the success of their products, and they will gain valuable new knowledge as they grow.
They offer:
A young and inspiring environment with room for your ideas

Excellent opportunities for professional development

An informal organization with short decision-making processes

Attractive job perks such as healthcare, lunch scheme, pensions program, football and a cozy kitchen lounge with great coffee!
Interested?
We at Bloom are continuously evaluating incoming applications and look forward to receiving your application asap.
Ansøg job
Vil du vide mere?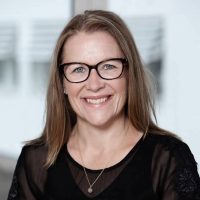 Dorte Pape
+45 3160 9365
dp@bloom.dk