Ledige stillinger
Her finder du de stillinger, vi annoncerer med netop nu.
DevOps Engineer
Concordium
We are looking for a DevOps Engineer for our client Concordium in Aarhus, Denmark.  
Concordium is a software company developing blockchain-based solutions for enterprises. Concordium is deeply rooted in science and the software development team works closely with the crypto groups at Aarhus University and ETH Zurich.
Your responsibilities 
You will work with areas such as CI in GitLab, packaging of software for Docker distribution, Instrumentation of software, performance analysis of in-house software, deployment on AWS and more
You will be part of and working directly with their software development team. Your main responsibilities will be around the DevOps tasks. Their software is developed in Haskell and Rust. It is not a requirement that you have programmed in these languages, but it is an advantage that you have experience as DevOps engineer in relation to one of these or similar technologies.
It is a challenging job in an international environment with highly educated and skilled colleagues. Being part of the development team, you will be involved in all phases of the development life cycle.
Furthermore, you will be working with the following areas/technologies:
 
Skills/Technologies
● Kubernetes
● Cloud providers
● Docker
● Linux environments (Ubuntu, Debian)
● Monitoring software
● Performance analysis
They are currently running a public testnet in preparation of the launch of Mainnet in Q1 2021. As part of this job you will also be involved in defining the processes and technologies for deploying and maintaining Mainnet.
About you
You have a Masters degree in computer Science, software engineering or similar and that you have experience with GitLab/Github, Jenkins and CI/CD pipelines.
It is an advantage if you have working knowledge of security and if you have an interest in blockchain / crypto currencies.
Concordium offers
This is an exceptional and challenging opportunity to work with blockchain and work with state-of-the-art technologies. You will work in a highly professional setup in an international environment.
About Concordium 
Concordium is a science-based proof-of-stake blockchain created with business applications in mind. It is the first blockchain with identification built into the protocol to meet regulatory requirements, while delivering a user-friendly platform that can handle smart contracts. Concordium is developed by professionals with global multi-sector experience and in collaboration with the Concordium Blockchain Research Center Aarhus (COBRA) at Aarhus University and Swiss Federal Institute of Technology (ETH). The network will eventually be fully decentralized, the code open source, and further development orchestrated through an advanced governance mechanism.
Blockchain technology
Blockchain technology is one of the most important innovations in recent times. The technology will rationalize financial systems and support user-owned platforms, provenance, and rights registration. However, the technology needs to mature in respect to safety, accountability, and usability before mainstream business will start building true infrastructure on blockchains. Concordium will provide this mature blockchain technology to the world.
Interested?

We in Bloom are continuously evaluating incoming applications and look forward to receiving your application and CV. 
If you have questions, please do not hesitate to contact Manager Dorte Pape at Bloom via dp@bloom.dk.  
Ansøg job
Vil du vide mere?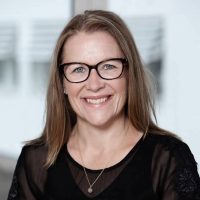 Dorte Pape
+45 3160 9365
dp@bloom.dk