Optical Engineer
Are you passionate and experienced within Ray Tracing analysis?
Then join RSP Systems' dedicated team and become part of a company applying state-of-the-art technology to improve the lives of millions of people worldwide.
For our client RSP Systems A/S we are looking for an Optical Engineer for their Technology and Innovation department. RSP Systems is a Danish medical technology company focused on developing a truly non-invasive blood glucose meter based on Raman spectroscopy. They are striving to bring painless glucose monitoring to people all over the world.
RSP recently entered a strong partnership with Trumpf Photonics, who's a global leader within the fields of VCSEL laser technology.
You will be a part of their world-class team of engineers and specialists committed to quality and work with ground-breaking technology in a committed company with close collaboration. Moreover, you will be a part of the Technology and Innovation team who works closely with the Hardware- and the Data Science team.
About the job
In RSP Systems you will be developing novel concepts and optical system architectures for the next generations of non-invasive glucose monitors from ideation to proof of concept as well as performing optical design, optimization and performance simulation of components and systems.
Also, you will:

Perform tolerance analysis of components and sub-systems

Develop test strategies for optical systems

Build, test, and refine optical prototype systems

Develop proof-of-concept hardware prototypes

Coordinate with vendors to prototype designs

Perform non-invasive technology surveillance
RSP Systems offers an inspiring environment, with continuous learning, where getting the job done requires not only a strong professional skill set, ingenuity, and creativity, but also the ability to clearly present your results to relevant stakeholders in the company.
Your Profile
You hold a Master or Ph.D. in the field of Optical Engineering or Physics.
Preferably you have +3 years of relevant applied experience modelling and simulating optical system using ray tracing software, ideally Zemax. Relevant laboratory experience designing optical experiments and optical metrology would also be a plus. It would be an advantage if you are experienced with optics technologies in one or more of the following:
Raman spectroscopy, spectrometer design, diffractive optics, optical probe design, optical coating, laser illumination, light-scattering models, photonic integrated circuits, and stray light analysis.
Moreover, you have +3 years of experience with scientific programming languages as Python.
You are a self-starter, yet a strong team player, with an innovative spirit and a drive to make a difference. You have a positive approach to the tasks, are open, creative, and curious.
RSP Systems offers
RSP Systems values every employee as an important part of the company with emphasis on safety and a good physical and mental working environment providing morning exercises, a daily walk, and health insurance for you and your family. Every morning there are freshly baked buns, snacks during the day, and a delicious lunch. Pension, 6 weeks of holiday – plus up to five extra days off per year – is also provided by the company. RSP Systems offers flexible working hours and remote days.
As a team, RSP Systems' employees are passionate about the work they do and excited about the positive impact it will have on people with diabetes around the world. With just over 25 employees, they maintain in many ways a relaxed family atmosphere, eating daily together and winding down every Friday afternoon, often to themed hangouts. You can expect a warm and flexible atmosphere, where your input matters.
Please read RSP systems Privacy Policy before submitting your application. https://www.rspsystems.com/data-privacy-policy/
About RSP Systems
RSP Systems is transforming how we measure health and has been doing it for 17 years. Their mission is to make glucose sensing so appealing and easy, that they can touch the lives of virtually everyone in the world. RSP Systems unique technology establishes an all-new category of monitoring that meets consumers on their turf and in their communities. RSP Systems leverages more than a decade of expertise in non-invasive sensing to expand the possibilities of digital health. We are the company that people love to experience.
RSP's technology is based on a direct optical detection principle, Raman spectroscopy, a mature technology to which RSP has developed and patented improvements enabling the measurement of concentrations of various substances in the interstitial fluid (tissue fluid surrounding the cells of the body) non-invasively, through the skin. Proof-of-concept for glucose measurement on diabetics has been demonstrated through pilot trials in collaboration with hospitals in Denmark and Germany.
For more information, please visit www.rspsystems.com.
Mere info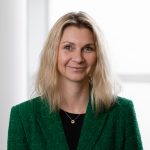 Anne Sofie Kvisgaard
Rekrutteringskonsulent
Ansøg her