Do you want to be part of a fast-growing and successful company located in Aarhus?
For our client Luxion in Aarhus, we are on the lookout for an exciting job opening as C++ Developer in their dedicated software development team. You will be part of a friendly working environment with innovative and talented colleagues of many nationalities in a flat, agile structure where your personal contribution really matters.
Luxion is the global leader of product design rendering software. Thousands of companies around the globe use Luxion's main product, KeyShot, for a multitude of use cases. This includes creating photo-real visualizations of CAD data for marketing, evaluating materials and textures ahead of production, and providing interactive product visualizations and 3D animations for stakeholders across the design lifecycle. In short, they help companies make better decisions, faster.
Founded in 2003, Luxion has offices in Denmark and the US, and has a global footprint with a large portfolio of customers including Google, Microsoft, Louis Vuitton, Logitech, Procter & Gamble.
The position
As C++ Developer at Luxion, you will join a software team with 6 other experienced C++ developers. Your tasks will primarily be focused on development of new functionalities in the KeyShot application as well as third party integrations. It is possible to be challenged on many different levels depending on your skillset. They have a modern development pipeline, and they strive to keep being updated with the latest developments in the C++ language. It is important to have a quality mindset since your work will impact many of their customers.
You will be part of a cross functional and self-empowered Scrum team and participate in bi-weekly sprints planning as well as long term planning.
Thus, you will have great influence on the daily processes and workflow. Also, you will be surrounded and supported by great colleagues who are more than happy to help.
Your background
We expect that you have an educational background as Computer Scientist, IT Engineer or equivalent. You have 3+ years of experience with C++ development. Preferably, you also have knowledge working with the Qt framework.
It would be a plus if you have some experience as Scrum Master or as a team lead – or you are interested in taking a Scum Master certification.
As a person you are a team player who works independently, enjoys collaboration, and are willing to discuss with team members how to improve the software craftsmanship. You have a proactive quality-minded attitude and the ability to work systematic and confident with new challenges.
At Luxion, their primary working language is English, and since your colleagues come from all over the world, it is vital that you speak and write English at professional efficiency.
Luxion offers
An ambitious and friendly environment with highly skilled colleagues where everyone has a voice and makes a difference. Their culture is built on trust, openness and team spirit and they value personality, creativity, and professional development. The company is the middle of an exciting journey driven by the success of their products, and everyone is learning and developing together as they grow. Luxion values people. Thus, good communication, knowledge sharing, and collaboration is key.
The company offers attractive benefits such as pension and health scheme, lunch, beverages/fruit/snacks and many social events. They are located at Rymarken 2 in Aarhus V.
Interested?
At Bloom we look forward to receiving your application and your CV – and we evaluate applications daily. For further information about the position, please do not hesitate to contact Dorte Pape at Bloom via dp@bloom.dk.
Mere info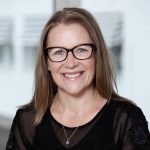 Dorte Pape
Manager Aarhus
Ansøg her