Ledige stillinger
Her finder du de stillinger, vi annoncerer med netop nu.
Senior Software Engineer for state-of-the-art tech environment
At WhiteAway Group you will be given the opportunity to build microservices in a cloud environment and use new technologies in an agile set-up.
For our client WhiteAway Group, we are searching for experienced Senior Software Engineers for their highly valuable and prioritized tech team in Aarhus. 
WhiteAway Group sells and ships household appliances to customers in Scandinavia, with an ongoing focus on great customer experiences. Right from the beginning, the company has been focused on a fresh approach to the market and a digital mindset. This has resulted in a strong growth, and they still have huge ambitions.
You will join a highly skilled tech department of 40 people, with plans for further growth. The software development unit counts 15 dedicated engineers who work in autonomous squads and scrum teams. To fuel the ambitions and strengthen the teams, WhiteAway Group also collaborate with selected and experienced consultants and have a team set up in Poland.
They are truly passionate about building the right solutions and about building what is best for their growing business in the Nordics. They strive to deliver the best code. They do so by investing time in training and professional sparring via pair programming, MOB programming and of course hackathons. They are hypothesis driven - they test it, chance it and find a solution to build it the best way possible. You and your team are empowered to make decisions on your own. 
The squads have each of their specific focus area such as logistics, order management, product handling, store front. You will be specialized in one of these areas and in time, you can change squad if you want to broaden your horizon and learn something new. 
At WhiteAway Group, they use the following technology stack: AWS, microservices, Node.js, Typescript, MySQL, Docker, Kubernetes.
Your tasks and responsibilities
As a Senior Software Engineer you will facilitate, enable and build the future architecture.
Your daily tasks will include:
Developing microservices in an event-driven solution architecture in a cloud environment

Participate in all architectural discussions and decisions of the technical strategy

Take initiatives and be an active player on the team

Implement and maintain the range of e-commerce solutions

Innovate and bring their platform to the next level 

Mentor and develop your colleagues
Your background

You probably have experience in the following technologies and tasks.
Node.js and/or Python – or you have experience in other server-side programming languages such as C#

Infrastructure components: AWS, MySQL databases, Docker, Kubernetes

Domain Driven Design, Test Driven Development, and experience in different design patterns

You can lead large coding initiatives and takes ownership of features and metrics 
WhiteAway Group offers 
You become a part of an amazing workplace in a dynamic and international environment. You will be able to explore new ideas and get the opportunity to develop your professional and personal skills. WhiteAway Group have a flat informal organization with a high degree of independence and short decision-making processes. This is an excellent opportunity to work within modern agile methodologies, such as Spotify inspired squads. Last but not least, you will get the opportunity to attend hackathons and focus on your own continuous learning.
More about WhiteAway Group 
At WhiteAway Group you will find an open-minded and energetic tribe of 280 passionate colleagues that invites you in on the journey. Through several online shops, franchise chains and wholesalers, they sell and ship appliances. It all started as an idea in the backroom of a Danish kitchen store with a fresh approach to the market and a digital mindset. Grounded in innovation and honesty, delivering frictionless customer experiences - this is still what makes them tick. Today, WhiteAway Group is the leading supplier in Scandinavia in their field. Their customers know them as Skousen, tretti and whiteaway. 
Interested in joining WhiteAway Group?
Send a brief application and CV via the "Apply" button as soon as possible as interviews are conducted on an ongoing basis. 
If you have any questions, please send an email to Dorte Pape on dp@bloom.dk or call her on +45 31 60 93 65
Ansøg job
Vil du vide mere?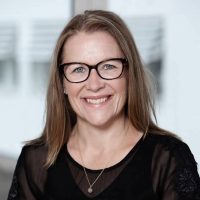 Dorte Pape
+45 3160 9365
dp@bloom.dk