Ledige stillinger
Her finder du de stillinger, vi annoncerer med netop nu.
Digital Fundraising Account Manager
Do you work in the areas of Digital Fundraising, Community Fundraising or Individual Giving? Are you a Not For Profit (NFP) digital extraordinaire looking for a slight shift into corporate all while still working for the greater good?
How would you like to take this knowledge and experience and work with iRaiser working with many charities on their digital fundraising solutions? Perhaps you come from a different field; are you a Saas Sales professional looking for a change into a sector dedicated to "empowering others to do good"? Help Not-for-profit (NFP) organisations raise more funds, using less resources through iRaiser Digital Fundraising Solutions.
 
On behalf of iRaiser, Bloom is looking for a Digital Fundraising Account Manager for the Danish/Finnish market to be located at the Copenhagen office.
Industry Leader
iRaiser, a Saas fundraising software solutions provider is an industry leader across Europe supporting NFP's in their digital fundraising transformation. Specifically with advanced out-of-the box solutions focused on peer-to-peer, crowdfunding and payment platforms all designed with user experience in mind and off course to raise much needed funds for very important local and Global causes.  Many well-known and large NFP organizations in Europe and Scandinavia have already realized the potential in the platform and more are joining on an ongoing basis.
If you are keen on; sales, understanding digital customer journeys, conversion and building trust in digital channels, you could be the right person for the job – the trusted advisor in digital fundraising for iRaisers clients. 
The world desperately needs NFP's to be successful in driving funds for their causes. That is iRaisers mission – raising more funds for less resources, using their best-in-class digital solutions for all phases of the donor journey.
Your role:
You will help existing and new customers get more funds with the most efficient use of resources through the best use of their portfolio of proven digital tools and products.
New customer business

Set up meetings and product demonstrations

Support in delivering lead generation marketing and event activities and opportunities

Advice on using iRaiser digital tools to increase fundraising effect

Deliver on  sales targets within market

Enjoy interacting with people on all levels both internally an externally

Have an open mind
About you:
You speak fluent fundraising with a digital accent or have a background from SaaS sales. You respect the focus on security, efficiency and confidentiality iRaisers customers demand. You are a heat-seeking missile always on the look-out to create value and win-win scenarios – and yet a humorous team-player with great social skills and someone your friends count on (we will too – count and be friends, that is).
Formally we require:
Experience in NGO sector or

Experince in Saas sales roles 

Fluent in English
If you are fluent in one or both of the market languages Finnish/Dannish its a big plus.                                                                                                            
What iRaiser offer:
An exciting chance to work in the fundraising industry from the commercial side. Freedom to plan your own work and hours – iRaiser is about results, not micro-management. The opportunity to sleep well every night, knowing you are part of positive Global change. A decent paycheck every month, phone and computer.
Join the team of more than 50 digital fundraisers in France, Belgium, Holland, Italy, Denmark, Sweden and Finland. iRaiser is changing the world of digital fundraising: one donor at a time, they´re increasing our customer's share of wallet and raising more funds for the causes that truly need it! 
At Bloom, we are continuously evaluating incoming applications and look forward to receiving your application and CV. Applications for this role will close on Friday 27th November. 
If you have any questions, please do not hesitate to contact IT Recruitment Specialist Robert Krogh Steffensen at Bloom via rks@bloom.dk or +45 53 62 93 00
About iRaiser                                           
Established in 2012 in Nantes, France. Currently active with own offices in France, Belgium, Denmark, Italy and opening offices soon in UK and Australia. iRaiser is a fast growing company that has the objective to become the leading provider of SaaS Solutions for the Social Good market in Europe and beyond.               
Ansøg job
Vil du vide mere?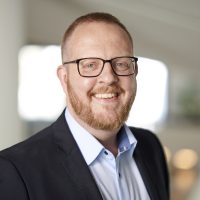 Robert Krogh Steffensen
+45 5362 9300
rks@bloom.dk