Ledige stillinger
Her finder du de stillinger, vi annoncerer med netop nu.
.Net Web Developer
in international growth company where you will get a lot of influence
For our client Spain-Holiday in Horsens, we are looking for a .Net Web Developer. 
Spain-Holiday is a market leading company that specialises in online advertising of short term holiday rentals in Spain. Their sites advertise more than 9000 holiday homes and they receive more than 20 million guest visits to their websites every year. The company has offices in both Malaga and Denmark where they have a team of 30+ employees. The company was founded in 2002 and has experienced steady growth every year.
All software development takes place in Horsens, Denmark with the team of 6 developers who puts quality over quantity. 
Your responsibilities will mainly be
to maintain the current infrastructure
to develop and implement improvements in the current code base 
to help with defects management
You will also be involved in developing new products and features. As they are using agile processes and continuous integration, we expect you to contribute in improving these areas as well. Also, they aim at moving some parts to Microservices.
Your qualifications
You are educated in computer science. You might have some years of experience, preferably from other web platform or e-commerce technology company. But this migth also be your first job. 
We expect you to be experienced in
ASP.Net MVC or ASP.Net Core
Entity Framework
JavaScript 
Also, you are willing to learn other technology areas such as DevOps tools, and tools to enhance scalability and automation - if you are not very skilled in these areas already.
Working as part of an international company with colleagues in Spain, you will need to be almost fluent in written and spoken English.
As a person
You are passionate about what you do and take initiative. You give excellent attention to detail, whilst still having an appreciation for the bigger picture, and you have the drive to try finding solutions to complex problems. A teamplayer with a great sense of humour is highly appreciated.
You take pride in being an example to others and you like to learn new technologies, as well as train and give feedback to others.
The company Spain-Holiday offers
A growing organization and development team where you can learn a lot from experienced colleagues in a multicultural environment. They offer the dynamics of a start-up, including fast decisions, fun and enthusiasm and close relation to management.
In Horsens they also offer good lunch facilities, possibility to work from your home from time to time.
An extra bonus is that you will approx. once a year get a paid trip to meet your colleagues in Malaga, Spain.
For more info, please check www.spain-holiday.com
At Bloom we are continuously evaluating incoming applications and look forward to receiving your application asap.
Ansøg job
Vil du vide mere?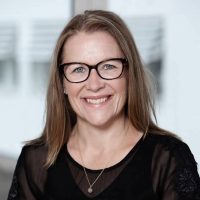 Dorte Pape
+45 3160 9365
dp@bloom.dk