A great opportunity to manage technical software projects of several teams and ensure that they deliver high quality embedded software for automotive and industrial Ethernet products!
For our client, Microchip Denmark, we are looking for an experienced Project Manager of embedded software solutions projects. You will ensure that the projects are developed as intended, and you will collaborate with software and system engineers as well as architects and stakeholders in Denmark and in several countries.
Microchip Denmark are in great offices in Herlev with a team of 35 engineers, developing Ethernet network switches for Enterprise, Industrial and Automotive markets worldwide. The Denmark site represents all the engineering disciplines from initial product definition, RTL design, Software development, reference systems and technical support. The company is part of Microchip USB and Networking Group (UNG), which have sites in USA, India, and China.
Even though Microchip Denmark is part of a large US corporation, decision making in Microchip Denmark is fast, and they offer lots of flexibility.
Your Responsibilities
As SW Project Manager, you will be involved in 2-4 projects at a time, ideally from project kick-off and all the way until you have a successful product. It is very important that you can establish a trust relationship with the direct team members as well as with the teams, Microchip is interfacing with.
At present they are running three major projects and all projects are running a release-train strategy where new releases are done every three months. Coordinating the requirements to be developed and keeping the projects running demands that a lot of adjustments during the projects. You will quickly have to be familiar with the skills and preferences of the engineers in the teams – and you keep track of the many dependencies in developing and delivering the software solutions.
You will also be involved in talking to international stakeholders & customers as they might change their requirements and request new features, test requirements etc.
You will meet the teams on a daily, weekly, or bi-weekly basis and you coordinate the next steps, depending on the status of the projects. The reporting part includes weekly status reports on achievements and risks, a monthly site-local status and a quarterly goal setting and evaluation.

Your Background
You probably have the following education and qualifications:
B.Sc. or M.Sc.
Very good understanding of developing low-level embedded software solutions or Linux user/kernel space, safety, and development standards
5+ years of solid project management experience
Very good communication and presentation skills
Excellent team player skills
Good English skills – written as well as oral.
You are very committed and persistent to keep iterating and updating the project status and next steps.

Microchip Denmark offers
An influential role to ensure development the embedded software projects
You will join a large organization with multiple experienced teams working in a variety of different software projects including upstream Linux drivers, OS agnostic drivers, turn-key software solutions.
Direct access to experts developing the relevant hardware, chips, network technologies and standards.
International work environment and opportunities to travel, and working together with difference cultures,
Options to work-from-home 1-2 days a week, parental leave, occasional social gatherings.
Informal, pleasant office environment with options for individual or 2–3-man offices. Breakfast, lunch, coffee, and fruit in the cafeteria
Competitive compensation including attractive employee share option plan.
Competitive benefits such as: pension, healthcare, stock options etc.
Focus on development of the individual employee and a fantastic career development programme.
Microchip Denmark is a subsidiary of Microchip Technology Inc. – a leading provider worldwide of microcontroller, mixed-signal, analog and Flash-IP solutions, providing low-risk product development, lower total system cost and faster time to market for thousands of diverse customer applications worldwide.
For more information, please visit www.microchip.com.

Interested?
Mere info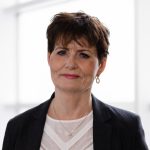 Sara Juhl
Direktør
Ansøg her