Are you a strong in architecture and Python software development, you will get an exceptional opportunity to help startups with exciting IoT, ML/AI projects
For our client MindFuture, we are looking for a Senior Python Engineer/Software Architect. You will take care of the architecture/design of software, development and ensure that the product quality meets the needs of their projects for start-ups.

MindFuture is driven by intelligent things technologies and trends in AI, Machine Learning, IOT and Data Science. They are a venture builder that fosters pre-seed and early-stage start-ups that focus on building a range of tech-based products. MindFuture supports an individual or founders with an idea that cannot realize their vision on their own. By collaborating with MindFutures highly skilled and diverse team, founder(s) accelerate a project from idea, to prototype, then MVP through rapid prototyping without compromising on quality. Additionally, they provide a wide range of services that cover the entire life cycle of the project from, founder matching, business development, makers lab, workspace, community, to lunch and drinks.
As Software Architect/Senior Software Engineer, you will become a key player who can work as a team player with a multi-disciplinary team that enjoys taking ownership and initiative throughout the project cycle and delivers powerful solutions.
As their Software Architect/Senior Software Engineer, you will not miss the joys of freedom, creativity and diversity in the workplace. The MindFuture team is dynamic and humorous, the tasks and assignments span wide and far as the start-up projects are rolling in.
We think that you have the following experience
Strong experience with backend development and expertise in Python – and a plus if you also know Node.js
Expert knowledge in architecture and design
Experience with design of small and medium size software solutions, already on the market
Has no problems in being hands-on in many aspects and are used to deadlines
Works with structured approach and do not mind having several projects at the time.
Has a bachelor or masters degree from a technical university

More about MindFuture
MindFuture is growing and the tech development team consists of approx. 20 software, electronics and hardware developers forming an integral part of InQvation, Danmark's leading tech innovation hub. The creative, fun and comfortable office and lab space in Taastrup will inspire you alongside synergetic sparks from co-located InQvation businesses and projects. InQvation is currently home to 120+ dedicated people, enjoying their own indoor forest, hammocks with Arctic views, vintage auto campers, conference rooms with living wallpaper, great food and unlimited espresso on tap.
MindFuture thrives through strong partnerships with both private and public sectors in Denmark. This helps entrepreneurs test their idea in the market quickly so they can adapt and continue towards commercialization and hopefully become a global representation.
Have a look at www.mindfuture.com
Interested in joining MindFuture?
Send a brief application and CV via the "Apply" button as soon as possible as interviews are conducted on an ongoing basis.
If you have any questions, please send an email to Sara Juhl at Bloom on sj@bloom.dk or call him on +45 2086 0865.
Mere info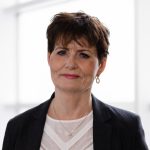 Sara Juhl
Direktør
Ansøg her