Cryptomathic is a Denmark-based, leading provider of cryptography-based security solutions for institutions and organizations with the highest cybersecurity needs.
As the company is growing, there is an increased focus on strengthening their Consolidation & Finance team. Therefore, we are looking for a Senior Finance Manager, who can take charge of consolidation and reporting assignments.
You will work in the Finance System team covering financial systems and data relevant for their consolidated reporting. You are a team player that work collaboratively with all members of the small Finance team but with stakeholders throughout the business. The team is responsible for timely reporting and reliable data.
You will work on optimizing the consolidation and reporting processes, covering recommendations to their reporting structures and governance, technical validation related to month-end reporting. Additionally, supporting different stakeholders with your knowledge of our finance systems and participating or running key initiatives and various projects. The reporting covers both financial data and ESG (Environment, Social and Governance) data.
ESG is a field which aims to track and improve the good that we do and make it even better. It takes an increasingly important role as customers, partners, employees, and investors all have a strong desire to incorporate values and concerns such as environment, social responsibility, community concerns, ethical corporate governance into their decision to select, endorse or invest into a particular business.
They want to move beyond compiling data and help tell the story behind the numbers.
This role reports directly to the CFO (Chief Financial Officer) of the company. Your work location will be in Aarhus.
About the Role
The position is new in Cryptomathic giving you an excellent opportunity to have influence and form this role.
Your main responsibilities are the following:
Consolidation
Managing consolidation processes and tools, and driving improvement to existing systems, processes, and controls in the consolidation process. Support the implementation and set-up of consolidation procedures and the intercompany set-up
Working to ensure the delivery of complete, correct and fully understood financial information in accordance with the reporting timetable.
Work to ensure information, reporting and procedures remain entirely clear and consistent across the Group according to the accounting policies and procedures. Further to ensure that all key accounting judgements and assumptions are documented and updated appropriately to support reporting.
Interpret and evaluate monthly analyses of business trends, including budget variance of financial results and Key Performance Indicators to identify areas of risk and opportunities and provide strategic guidance and insights during the analysis process
Liaising with external specialists, such as auditors and tax specialists
Supporting delivery of timely responses to ad hoc queries by the business.
Budgeting and Forecasting
Assist the business in thinking about and planning for the future. We do budgets once a year and quarterly forecasts
Determine the optimal method, scope and use of the forecast, taking into account the context of the forecast, availability of data, the degree of accuracy desired and timeline.
Own the development and communication of the plan for forecast, financial reporting, operational analysis and executive reviews.
Gather, consolidate, and analyze numerical data and present findings in such a way that it ties takeaways to clear recommendations and operational decisions
Develop and assess business cases for investment decisions, providing insights and support to the business.
Assess capital requirements, develop capital plan and provide recommendations on capital allocation.
ESG
Participate in ensuring that an ESG action plan is developed, overseeing the implementation
Responsible for providing Riverside with the quantitative ESG data twice a year
Responsible for the annual Cryptomathic sustainability report
Being the point person for ESG specialists/consultants that might need to support Cryptomathic with certain initiatives, like PWC with the one-off ESG assessment we need to complete now
Skills we value for this position
You have some years of experience, with a proven track record of deliveries in Financial Consolidation, Reporting and/or ESG/Sustainability. You could have previous Consultant/Auditor experience or have worked with reporting in a larger organization.
You are curious about how new reporting and sustainability trends and technologies are shaping the world.
As a person, you thrive in a truly diverse and international environment where collaboration is essential.
You have strong communication skills and an ability to convey technology and business value propositions.
In addition, you have a proven ability to work creatively and analytically in a problem-solving environment where perseverance, a can-do attitude and curiosity are key characteristics.
Cryptomathic offers
You become a part of an amazing workplace in a dynamic and international environment. This is an excellent opportunity to take charge of consolidation and reporting assignments in a growth company as well as developing your professional and personal skills. Also, an opportunity to work with ESG reporting.
Cryptomathic have a flat informal organization with a high degree of independence and short decision-making processes.
About Cryptomathic
Cryptomathic is a Denmark-based, leading provider of cryptography-based security solutions for institutions and organizations with the highest cybersecurity needs.
The Company's product portfolio comprises four key solutions lines of business: cryptographic key management, e-signature & authentication, EMV1 and mobile app security. Within these respective products Cryptomathic is uniquely positioned, being one of only a few international vendors that have a solid track-record in cryptography building on its founders globally recognized expertise. The company's products are sold directly to long-standing customers primarily in the financial industry with banks and other financial services companies representing the largest categories.
The Company is headquartered in Aarhus, Denmark, with additional offices in Munich, London, Cambridge, and San Jose. In 2021 The Riverside Company invested in the business alongside the existing shareholders and are now working closely with management to build on the company's strengths and add to them to accelerate growth.
For more info check www.cryptomathic.com
Interested?
Please submit your application and a CV by using the 'Apply Job' button above. At Bloom we evaluate applications daily. For further information about the position, please do not hesitate to contact Dorte Pape at Bloom via dp@bloom.dk
Mere info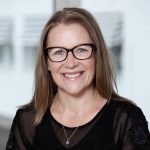 Dorte Pape
Manager Aarhus
Ansøg her