Are you passionate about growth and using your leadership skills to motivate, support and develop your team alongside putting your excellent service level into play? Then you might be the one we are looking for.
For our client, DHL Aviation, we are looking for an IT Service manager with great soft skills to make a difference in the Hub located in Copenhagen Airport.
In this position you get the chance of being a part of the continued success of DHL Aviation. Currently DHL is preparing to move to a new state of the art logistics Hub right in front of the sea. Due to this growth and expansion, the team will double the size in 2022 and you will be the manager of 11 employees and a Senior Supervisor.

Your responsibilities
As IT Service Manager you will use your excellent people and organizational skills, your experience as a manager, and your strong leadership competencies developing and motivating your people. Furthermore, you will use your high level of service in combination with your strong, broad understanding of IT when you support your colleagues.
You will be part of the Hub middle-management team and thereby get the chance of displaying your passion for teamwork and leverage the strengths of your colleagues. Furthermore, you will be responsible for the IT Service budget, IT vendor contract management, purchase of IT hardware and software, for installation and maintenance of the IT equipment and associated problem solving. Besides this, you will be responsible for the company's IT infrastructure, for the IT service departments KPI's as well as the IT service on a 24/7-hour basis.

Your skills
This manager position offers you the possibility to work with your motivational skills when supporting, developing, and engaging your team. On top of this we would like you to:
Have a customer-centric mindset.

Meet team members and stakeholders with a people-oriented approach.

Have an open/honest approach to others that create a positive and constructive dialogue.

Have a goal-oriented and structured mindset when you deliver on the departments KPI's.

Work in an independent manner when you set the tactical goals that support the company's strategy.

Use your broad and excellent IT skills and your proactive mindset when you monitor and update the IT systems according to the business' requirements.

Have the ability to stay calm in critical situations where IT expertise is required.
You hold an IT professional background at an academic level, and you are ITIL certified. Furthermore, you have deep knowledge on the ITSM system – ServiceNow. Finally, you enjoy the international environment, and you are a skilled communicator in both English and Danish.

DHL offers you
A fulltime position with flexible hours in an international company with great sparring opportunities worldwide. On top of this they offer a good pension scheme, health insurance, bonus, and a great lunch plan. DHL has a high level of commitment, diversity, and a strong culture. The environment is dynamic, inspiring, and educational. Both on a professional and social level, and there is an informal and humorous tone.
At DHL Aviation the engaged employees are what makes the foundation for their success. They look at you as an individual and give you the opportunity to take your career in exactly the direction you wish to go! This is their way of building and maintaining an able-bodied and motivated workforce and creating the best workplace – a workplace that has been awarded the best workplace in the world in 2021.
You will be reporting to the IT Director, Programs H&G EU, Hubs & Gateways Nordics.

About DHL
DHL is the leading global brand in the logistics industry. The DHL family of divisions offer an unrivaled portfolio of logistics services ranging from national and international parcel delivery, e-commerce shipping and fulfillment solutions, international express, road, air and ocean transport to industrial supply chain management. With about 570,000 employees in more than 220 countries and territories worldwide. DHL is part of Deutsche Post DHL Group. The Group generated revenues of more than 66 billion euros in 2020.

Interested?
Please do not hesitate to send your CV as soon as possible, as we at Bloom evaluate applications from day to day. If you need more information, please contact Recruitment Consultant Freya Sofie Ø. Olesen at Bloom via fso@bloom.dk or phone +45 5386 1300.
Mere info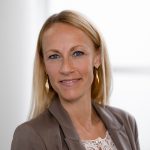 Freya Sofie Østergaard Olesen
Rekrutteringskonsulent
Ansøg her