Do you wish to work in international sales backup position with high-tech security solutions? Then this might be just the right job for you.
For our client Cryptomathic, we are looking for a dynamic and motivated sales backup with a strong focus on inside sales for their growing EMEA as well as developing channel sales for innovative offerings.
The focus of the job is on lead nurturing and account management where you will be working in close cooperation with senior sales and marketing colleagues based in Denmark, Germany, UK, and USA.
Cryptomathic in Aarhus is a global provider of secure encryption solutions and services with a stellar reputation, targeting a niche market, providing reliable innovative solutions to clients in finance, government, and technology manufacturing.
Your main tasks will be to:
Generate revenue by soliciting and cultivating leads in their CRM Hubspot solution and developing accounts throughout the sales lifecycle.

Automate sales processes with the CRM manager to provide targeted information and ensure that they can convert into active customers.

Maintain dialogue with customers by sending maintenance quotes, send information to their finance department and handle supplier relations.

Develop sales opportunities by researching and identifying potential accounts

Manage orders by transferring them to fulfilment, communicating expected delivery dates, maintenance periods and interacting with suppliers.

Develop accounts by checking customers' buying history, suggesting related and new items, and explaining technical features.

Develop and nurture channel partners for their SaaS offering in the fast-moving fields of eSignature and Key Management
You will be part of an international sales team, collaborating closely with marketing and working with blue chip clients in a market with significant growth opportunities.
Skills we value for this position
You have 2 to 4 years of industry sales experience, probably in a similar position and you are well-organized. It will be a big plus if you have previous experience from IT and from optimizing the use of CRM systems.
You have great communication skills, and you are fluent in English and German.
We prefer that you have a BA/BS University degree with a focus on sales, marketing, promotions, or business administration.
Working at Cryptomathic
You will be coached by and have sparring with your co-workers in Germany, Denmark, and the UK to ensure a steep learning curve and smooth cooperation with pre-sales, marketing, and product management teams. You will report to the Managing Director of the Germany entity.
Furthermore, you will
work with some of the most prestigious accounts in the finance and service industry.

be attached to the offices downtown Munich

[CQF1]

and may distribute your work between home office and work at the office in alignment with your manager.

be offered exciting career progression opportunities in the short and long term.
About Cryptomathic
Cryptomathic is a Denmark-based, leading provider of cryptography-based security solutions for institutions and organizations with the highest cybersecurity needs.
The Company is headquartered in Aarhus, at Aaboulevarden in a new and inspiring office. Where they are +70 employees. They have additional offices in Munich, London, Cambridge, and San Jose and total + 100 employees.
For more info check www.cryptomathic.com
Interested in joining Cryptomathic?
At Bloom, we look forward to receiving your CV and application as soon as possible as we invite candidates for interviews on a continuous basis.
If you have any questions, please contact Dorte Pape at Bloom on dp@bloom.dk
Mere info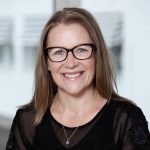 Dorte Pape
Manager Aarhus
Ansøg her