If you have experience working in a multi-faceted HR role in an international technology company, and you would like to make a difference at work every day – then this job might be just the one for you!
For our client Secomea in Herlev close to Copenhagen, we are looking for a skilled Human Resources Manager, who will be responsible for all HR activities for Secomeas global employee staff in Denmark, North America, and Japan. You will engage with a wide array of HR disciplines with both operational and tactical responsibilities with a focus on HR administrative tasks to ensure high quality and efficiency in the HR processes. 
You will be part of the Finance and Operations team and report to the CFO. You will be supported by two employees in this team, who can help you with some of the daily operational HR tasks.
  
As Human Resources Manager you will also be responsible for Office Management, where you will have a fantastic team of three employees, who make the office in Herlev a great place to work. 
Your main tasks will be: 
Execute on all HR admin tasks in the employee life cycle from onboarding to offboarding e.g. organizing and maintaining personnel records, preparing HR documents like employment contracts and bonus letters, create regular reports and presentations on HR metrics.

Own HR data quality in the HR system (Sympa), ensure and execute accurate and timely processing of employee records and data. 

Partner with managers to align on hiring needs and support them in the recruitment process including participating in interviews. 

People leader for the Office Management team. 

Support managers with HR and people-related activities and questions. 

Responsible for providing payroll input to the finance team.  

Be the local "go-to person" and first point of contact for employees on HR related questions and topics. 

Continuously review and update HR processes and policies and own the administrative tasks connected to this.

Run HR related projects that aligns with the Secomea strategy. For 2024 the focus will be on Culture & Engagement including Diversity & Inclusion. 

Maintain compliance with employment laws in the countries they operate in, mainly DK employment law. 

Work closely with the local partners, e.g. payroll and legal, to ensure that HR operations are running smoothly and compliantly.
Your profile
Bachelor's degree and/or Master's degree in Human Resources, Business Administration, or a related field.

5+ years of experience in HR operations, HR administration, or a similar role.

Solid experience in recruitment including posting roles, screening candidates, invite for interviews, personality testing and participate in interviews. 

Solid understanding of HR processes and best practices.

Knowledge of employment legislations and regulations.

Excellent organizational skills with a strong attention to detail.

Communicate effortlessly in English – both verbally and in writing. 

Fluency in Danish is an advantage.

Proficiency within MS Office, Excel, PowerPoint and use of other administrative systems.
More about Secomea
You will be part of the Finance and Operation Team, surrounded by diverse, vibrant, fast-moving, growth-focused, fun, energized, collaborative and inviting people. 
You will get to work in a friendly, contemporary office space – with excellent catering, regular cake, and unlimited coffee, soda, fruit, and snacks.
You won't get bored with Secomea – there are lots of opportunities for on-the-job skill development. All ideas are valued – teams are collaborations, not hierarchies.
Seasonal socials and cultural celebrations like Lunar New Year, Eid and Christmas are only a few of the perks of working with Secomea. As they are an expanding business, you'll have plenty of chances to grow your responsibilities whilst working in the heart of contemporary industrial tech. And yes, they really are going global.
Secomea truly is a diverse company with more than 100 employees in total and offices placed across the globe, 25+ different nationalities. In the Danish office in Herlev, they are now approx. 95 employees.
Secomea is committed to inclusion and diversity, and they encourage all qualified candidates to apply regardless of race, religion, color, sex, gender identity, sexual orientation, age, physical or mental disability, national origin, veteran status, or any other basis covered by appropriate law.
See more info on secomea.com
Interested in joining Secomea?
At Bloom, we look forward to receiving your application and CV as soon as possible as interviews are conducted on an ongoing basis. If you have any questions, please contact Sara Juhl at Bloom on sj@bloom.dk or +45 2086 0865.
 
More info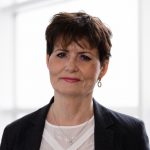 Sara Juhl
Direktør
Apply Now