As a bike-lover and a clever engineer, you will get the opportunity to make the e-bike safer and at the same time work for the green agenda
For our client SENSITIVUS Gauge, we are looking for two experienced embedded software/firmware engineers to join their team. You will like their dynamic and pragmatic approach to product development, with freedom and room for autonomy to find the right solutions.
SENSITIVUS Gauge, founded in 2015, develops integrated sensor technologies such as torque sensors, brake sensors, and power meters for e-bikes and other electric vehicles. The focus is on a small torque/angle/ cadence sensor for e-bikes to make the e-bike safer and to improve the feeling of a natural ride. The goal is to make an e-bike feel like you have an "exoskeleton" for your legs. To simply feel like a stronger you. Sounds simple? Think again.
The torque sensor is the key element to making an e-bike feel like a conventional bike. And this is not just something Sensitivus dream up. This is what all the motor and gear manufacturers are telling them when they knock on their door and want to be a customer. Both the big well-known brands and the ones that are still under the radar.
 
The role
You will be responsible for leading the development of all their software, if you wish the leading role – or take charge of the embedded/firmware development working in the team. You will have a key role moving the patent-pending sensor technology for torque and angle sensing forward. Something that will later develop into Sensitivus' own custom ASIC to fully scale to the volumes they already see requested from the customers.
You will work closely with both hardware and mechanical engineers as everything tends to be a tradeoff between various ways of implementing the same features.
They run new projects all the time for various customers always iterating to improve the performance, cost, manufacturability, reliability, safety, etc. Be prepared to juggle a lot of variations and learn a lot.
What you will be doing
Set and manage the overall architecture for software, tools, testing, methods, and documentation.

Hands-on coding with small inexpensive microcontrollers tightly coupled with dedicated analog hardware.

Work on higher-level software to run test systems for both in-house design validation and manufacturing testing. This includes torque, angle, and rotational speed testers as well as demonstration setups.

Help deliver real sensor prototypes to a wide variety of customers and help ensure their success.
Your background and personality
5+ years of experience in structured embedded C design, implementation, test, and documentation on microcontrollers. 

Degree from a Technical University, preferably M.Sc. or PhD

An innovative person, with a passion for how electronics, software, and physics can be applied to create the optimum solution.

Self-driven and goal-oriented with an SW quality mindset.

You are confident in dealing with customers at the technical level (engineers, designers, B2B).

Knowledge of and experience with CAN, SPI, I2C, UART, etc.

Experience with functional safety, SIL/ASIL, safety-critical software, testing, etc. is a plus.

English is a requirement. Danish is a big plus.
What SENSITIVUS Gauge offers you
Technical challenges every day in a team of very skilled engineers

A warrant program for key employees

Autonomy and freedom to find the approaches and best solutions for problems

High impact on the development of the patent-pending technology

A tight team in an informal environment where all opinions are heard, and ideas quickly turned into action
At SENSITIVUS Gauge they keep reasonable working hours and prefer to be in the office when they work as they have a lot of physical "stuff" that they need for their work. They are very flexible on most parameters as long as they keep focusing on creating real results. 
The office is in the SYMBION office park on Østerbro in Copenhagen where they have a great canteen, Friday bar arrangements, sparring with other startup companies etc.
For more info, see sensitivus.com
Interested in joining SENSITIVUS Gauge?
At Bloom, we look forward to receiving your brief application and CV as soon as possible as interviews are conducted on an ongoing basis. If you have any questions, please contact Sara Juhl at Bloom on sj@bloom.dk or +45 2086 0865.
More info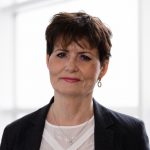 Sara Juhl
Direktør
Apply Now